Plastic Grab Rails
Manufactured by Cefndy Healthcare
Priced from
£22
(Exc. VAT)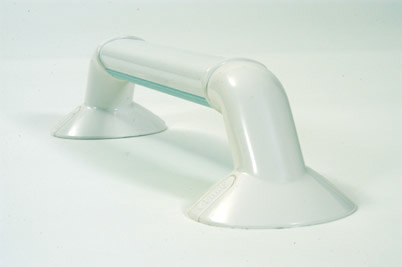 DLF's summary
Plastic grab rails with circular fixing plates. Range of sizes available.
Product models
There are 3 models of this product available. Suppliers may not supply them all:
small G26
medium G27
large G28
Product dimensions
Dimensions
Length
small G26: 31cm
medium G27: 46cm
large G28: 61cm

Diameter
4cm
Where can I buy this product?
The UK national suppliers that sell this item are listed below.
Manufacturer's contact
Cefndy Healthcare
Cefndy Road
Rhyl
Denbighshire
LL18 2HG
Wales
01745 343877
cefndy.sales@denbighshire.gov.uk
http://www.cefndy.com
Manufacturer's product description
The oval profiled plastic rail provides under-hand grip diameter of 40mm, so providing the user with a rail giving increased sense of security (the rail diameter is however 30mm, it being an oval section). Ergonomically designed, the grip of the rail has a unique soft-feel ribbed underside in pale green for firmer patient hold (see detailed picture). Moulded brackets offer 2 hole fixings and have smart screw covers to complement the aesthetic qualities of this rail (holes diameter is 60mm from between centres). Hand clearance from rail underside to wall is 50mm (see line drawing). All plastic construction eliminates the need for earthing.