Case study - how equipment helped Mr and Mrs Harris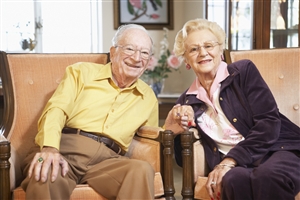 The concern:
Mr and Mrs Harris have shared a double bed throughout their married life. Mr Harris has acquired a disability, decreasing his bed mobility. As a result of this, he now requires a profiling adjustable bed with a pressure reducing mattress (because of the risk of skin breakdown). Both Mr and Mrs Harris are very upset about the prospect of having to sleep in separate beds in order to accommodate Mr Harris' needs.
The solution:
After researching the range of adjustable beds on Living Made Easy, the Harris' purchased the following:
1. A combination bed with only one adjustable (also known as profiling) side.
Then, after consulting with their community nurse, they also purchased:
2. A
pressure reducing mattress
for Mr Harris' side of the bed.
The outcome:
Mr and Mrs Harris continue to happily share a bed. They made sure before they purchased the bed, that the two sides could be easily separated. This will ensure that if Mr Harris requires carer assistance to attend to his care needs in the future, the carers will be able to access both sides of the bed.
---
To view the bedroom equipment listed above, click on the product links below: