Belts & harnesses for vehicles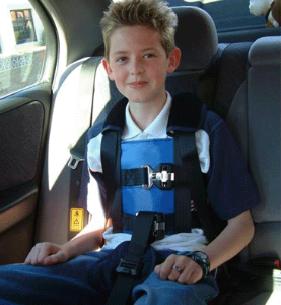 Standard seat belts may not offer sufficient support to disabled children and as a result, children can fall sideways, forwards and downwards in the seat during transport. Therefore, it may be necessary to provide an extra restraint in combination with the existing seat belt. This combination offers added security and ensures disabled children will be well protected during transport.
These specialised belts and harnesses are not designed to replace seat belts, but work in conjunction with them to offer safety plus support and in some cases, a degree of restraint. They usually attach around the back of the car seat. It should be ensured that children are adequately restrained, whilst still allowing quick release in an emergency.
Some of these specialised harnesses can be put on your child outside your vehicle. The car's seat belt is then threaded through and an additional strap is secured to the car anchor point or clipped around the seat.