Advocate+ Communication Aid
Manufactured by Abilia Ltd
Priced from
£99
(Exc. VAT)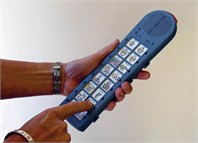 DLF's summary
Communication device and programmable infrared control. Compatible with Matrix Maker software.
Speechbubble's description:
The AdVOCAte, is a rugged but lightweight handheld digitised speech communicator. It can be operated by fingerpress or single/dual switch scanning, and has auditory feedback. It has an infrared port for operation of environmental control devices but a sister product, the AdVOCAte+, adds comprehensive environmental control and trainable infrared. The keypad can be configured to 1, 2, 4, 8 and 16 locations, and there are five message levels, four with single message selections and one with key linking. A total of up to 16 minutes of high quality digitised speech can be recorded, with up to two minutes of speech per message. There are also two alarm buttons containing messages to attract attention.
Features
library of infrared codes, compatible systems include GEWA, Possum and X-10 mains and lighting controllers, adapted phones and intercom systems
two to 128 messages, adjustable button layouts (one, two, four, eight or sixteen buttons) and keyguards
can be used with up to four external switches with one or two switch scanning and auditory prompts
Product dimensions
Features
Switch scanning control
Standard
Auditory scanning
Standard
Digitised or synthesised speech
Digitised speech
Infra-red capture/learning
Option
Control via
Infra-red
Dimensions
Weight
280g