Amdi Smart-talk Communication Aid
Manufactured by Amdi
Priced from
£625
(Exc. VAT)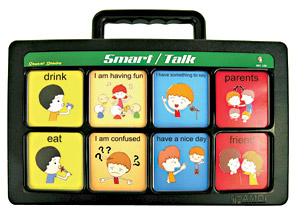 DLF's summary
Communication device.
Speechbubble's description:
The Smart/Talk is a recorded speech communication aid that features a novel overlay recognition system. It's the sister of the more powerful Smart/Speak and Smart/128 communication aids. The Smart/Talk has 8 message locations, each one capable of carrying a recorded message of up to 10 seconds in length. It also has six message levels, so that's a total of 48 messages. Messages can also be stored on interchangeable flash memory cards - each card holds six levels of messages with up to a total of 30 minutes of recording time.
Features
eight squares
five-second message digitally recorded
inserts for picture or symbol
Product dimensions
Features
Digitised or synthesised speech
Digitised speech