Partner Four Plus Communicator
Manufactured by Amdi
Priced from
£195
(Exc. VAT)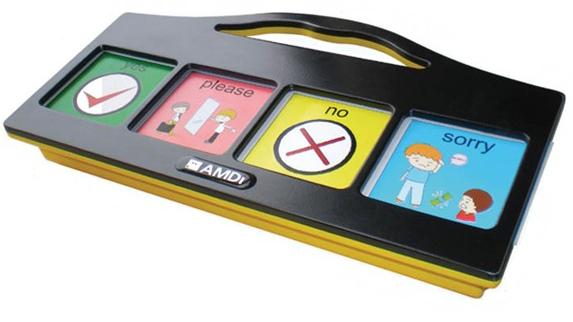 DLF's summary
Communication device with four message playback.
Speechbubble's description:
The Partner Four Plus is a four-message communication aid with optional LEDs and vibrating feedback features for visually impaired users. Each message can contain up to eight seconds of recorded speech, and these messages can be activated by pressing the light-touch 7cm square membrane buttons.
Product models
There are 3 models of this product available. Suppliers may not supply them all:
Standard 4331
With LED Feedback 4332
With LED And Vibrating Feedback 4333
Features
shatter proof plastic casing with integral carry handle
digitised audio production
four message playback with eight second message length
volume control
built-in microphone
overlay designer included
two input jacks
two output jacks
water-resistant
battery operated
Options
LED feedback
LED and vibrating feedback
Product dimensions
Features
Digitised or synthesised speech
Digitised speech
Dimensions
Weight
680g