Tilt-in-space Stainless Steel Shower Cradle And Chair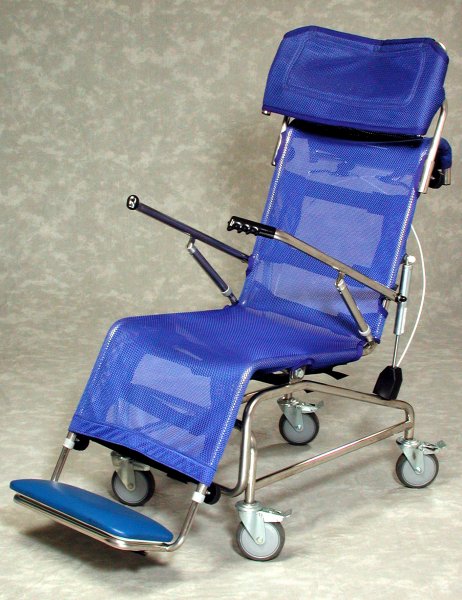 DLF's summary
Tilt-in-space shower chair-cradle for adults and children. Two models available.
Product models
There are 3 models of this product available. Suppliers may not supply them all:
Cradle 9002
Cradle with Aperture 9002A
CHAIR 9812
Features
adjustable height, tubular stainless steel frame
Hygienilac rubber moulded seat
adjustable seating
gas spring tilt-in-space
four braked castors
padded or fabric leg rest
padded, adjustable height, one-piece footrest
sprung tubular padded fold up armrests
handgrips
padded or fabric backrest
solid or horseshoe seat
detachable, adjustable padded or fabric headrest
push bar
Options
cradle cover with aperture
harness
lap straps
commode pan and rack
Product dimensions
Dimensions
Capacity
150kg
Height
132cm
Length
110cm
Weight
17kg
Width
65cm
Where can I buy this product?
The UK national suppliers that sell this item are listed below.