Straddle & saddle seats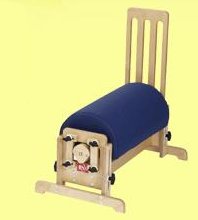 Straddle/bolster and saddle seats can be useful for a child who has good trunk and head control, but whose legs push tightly together.
Sitting astride these seats takes the legs apart and may bring on more normal muscle tone. This can make it easier for your child to have control of their arms for activities such as eating and school work.
Saddle seats require your child to get a secure 'footplant' to gain pelvic stability whereas the contours of a straddle seat will position your child's body.2