Digital organisers and memos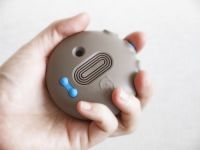 Digital organisers may have a range of organiser features including a phone book, appointment organiser, alarm clock, DAISY player, notepad and calculator. The information may be retrieved by voice recognition and/or a small number of tactile buttons.
Memo recorders can record and play back a short recording such as a list of items, a telephone number or address. The user may record the information temporarily to use as a prompt or to transfer to an address/phone book. The message length is restricted to a few minutes, but can be split between multiple messages.
Digital organisers are widely available from highstreet stores. The models shown here should have features to enhance ease of use such as voice recognition, speech feedback, tactile buttons, speech output or Braille input.