Illuminated Hobby Magnifier
Manufactured by Eschenbach Optik
Priced from
£23
(Exc. VAT)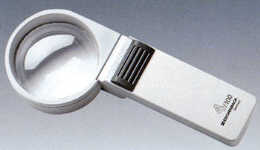 DLF's summary
Handheld illuminated magnifier.
Product models
There are 6 models of this product available. Suppliers may not supply them all:
15102
15103
15107
151010
151012
151041
Features
biconvex lens
plastic mounting with integral sliding switch
batteries housed in handle
Product dimensions
Dimensions
Magnification
3.5; 5; 7; 10x
Where can I buy this product?
The UK national suppliers that sell this item are listed below.
Online shop
X
Supplier details
Head office
Sheffield
South Yorkshire
S35 5BW
England
PO Box 4787
Supplier details last checked:
03 May 2016,

Next check due:
03-05-2018
SW Retail Ltd
's name for this product is
Eschenbach Pocket Illuminated Magnifiers
Their code/s for this product and any variants are:
- 3.5x 15103
- 5x 15105
- 7x 15107
- 10x 151010
From

£30
- £40
Checked by DLF on 03 May 2016
Mail order
Online shop
X
Supplier details
Head office
Gore House
13 Gore Road
Burnham
Buckinghamshire
SL1 8AA
UK

Supplier details last checked:
31 May 2016,

Next check due:
31-05-2018
Associated Optical
's name for this product is
Illuminated Hobby Magnifier
Their code/s for this product and any variants are:
- 15102
- 15103
- 15107
- 151010
- 151012
- 151041
From

£23

Exc. VAT
Checked by DLF on 31 May 2016