Optima Go Pocket Magnifiers
Manufactured by Optima Low Vision Services Ltd
Priced from
£23
(Exc. VAT)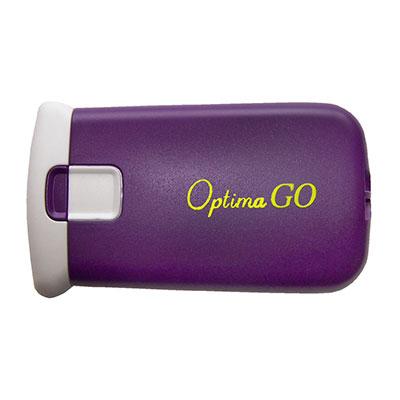 DLF's summary
Sliding pocket magnifier designed for spot reading.
Product models
There are 4 models of this product available. Suppliers may not supply them all:
8x 262801
10x 263601
12x 264401
14x 265201
Features
when lens is slid out of the protective case the LED light automatically turns on
rectangular lens
neck lanyard
pouch
cleaning cloth
Options
available in a range of magnification levels
Product dimensions
Features
Colour temperature
5500K
Dimensions
Diameter
lens 3.5cm
Magnification
8x 262801: 3.5x
10x 263601: 5x
12x 264401: 8x
14x 265201: 10x

Where can I buy this product?
The UK national suppliers that sell this item are listed below.
Show room
Mail order
Home demo
Online shop
X
Supplier details
Head office
Peterborough
Cambridgeshire
PE2 6WS
UK
PO Box 173
Supplier details last checked:
30 November 2016,

Next check due:
30-11-2018
Royal National Institute of Blind People (RNIB)
's name for this product is
Illuminated Sliding Pocket Magnifier
Their code/s for this product and any variants are:
- 3.5x MAG94
- 5x MAG95
- 8x MAG96
- 10x MAG97
From

£24
- £25

Exc. VAT
Checked by DLF on 30 November 2016
Show room
Mail order
Home demo
Online shop
X
Supplier details
Head office
Dartside
Ford Road
Totnes
Devon
TQ9 5LQ
UK

Supplier details last checked:
25 November 2016,

Next check due:
25-11-2018
Optima Low Vision Services Ltd
's name for this product is
Optima Go Pocket Magnifiers
Their code/s for this product and any variants are:
- 8x 262801
- 10x 263601
- 12x 264401
- 14x 265201
From

£23

Exc. VAT
Checked by DLF on 25 November 2016