Schweizer Sempral Magnifier
Priced from
£31
(Exc. VAT)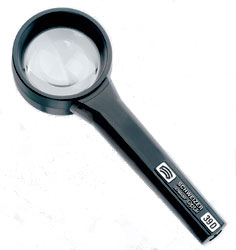 DLF's summary
Range of handheld magnifiers with rectangular or circular aspherical lenses, plastic frame and handles.
Product models
There are 4 models of this product available. Suppliers may not supply them all:
4x NRM76588
5x NRM76576
6x NRM76564
8x NRM76552
Product dimensions
Dimensions
Magnification
4x NRM76588: 4x
5x NRM76576: 5x
6x NRM76564: 6x
8x NRM76552: 8x

Where can I buy this product?
The UK national suppliers that sell this item are listed below.

Mail order
Online shop
X
Supplier details
Head office
52 The Droveway
Hove
East Sussex
BN3 6PP
England

Supplier details last checked:
08 June 2016,

Next check due:
08-06-2018
Essential Aids (essentialaids.com) Ltd
's name for this product is
Schweizer Sempral Magnifier
Their code/s for this product and any variants are:
- 4x NRM76588
- 5x NRM76576
- 6x NRM76564
- 8x NRM76552
From

£31
- £42

Exc. VAT
Checked by DLF on 08 June 2016
Show room
Mail order
Home demo
Online shop
X
Supplier details
Head office
Dartside
Ford Road
Totnes
Devon
TQ9 5LQ
UK

Supplier details last checked:
25 November 2016,

Next check due:
25-11-2018
Optima Low Vision Services Ltd
's name for this product is
Sempral 4x Hand Magnifier
Their product code is:
887002
From

£32

Exc. VAT
Checked by DLF on 25 November 2016