Forearm supports & stablisers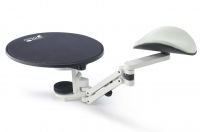 Included in this section are a range of forearm supports and stabilisers that may assist with eating or drinking. These can be attached to a tray or table top and may help reduce tremor or uncontrolled movements during eating or drinking tasks.
These products may also be used for other tasks such as writing, computing and personal care, eg shaving.