Slip resistant bowls & plates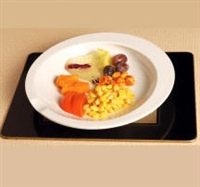 These plates and bowls have a base with either a slip-resistant rubber ring, or suction base which is pressed down to secure it in position.
These plates and bowls may be useful if you use one hand when eating, or if you have limited control over hand or arm movements. A slip resistant mat underneath a standard plate or bowl could also be considered, to help stabilise it while eating.
Read more about slip resistant materials in our Living made easy section on kitchen and household equipment.