Jug Kettle Tipper
Manufactured by Performance Health
Priced from
£7
(Exc. VAT)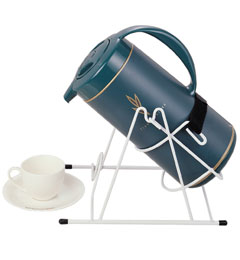 DLF's summary
Jug kettle tipping device into which most standard sizes of jug kettle can be fitted. Not suitable for cordless kettles.
Features
coated wire frame with a central wire cradle to hold the kettle
cradle is attached to the frame via a pivot, thus enabling the supported kettle to be tilted forwards to pour out contents
Product dimensions
Dimensions
Height
19cm
Length
26cm
Width
19cm
Where can I buy this product?
The UK national suppliers that sell this item are listed below.

Show room
Mail order
Home demo
Online shop
X
Supplier details
Head office
Plough Lane
Hereford
Herefordshire
HR4 0ED
UK

Supplier details last checked:
12 September 2017,

Next check due:
12-09-2019
TPG DisableAids
's name for this product is
Jug Kettle Tipper
Their product code is:
AA5774
From

£27

Inc. VAT
Checked by DLF on 12 September 2017

Mail order
Online shop
X
Supplier details
Head office
ReliMobility Head Office, Suite 2
The Causeway
Great Horkesley
Essex
CO6 4EJ
UK

Supplier details last checked:
17 May 2017,

Next check due:
17-05-2019
ReliMobility
's name for this product is
Kettle Tipper
Their product code is:
KK001
From

£19

Exc. VAT
Free delivery

Checked by DLF on 17 May 2017
Online shop
X
Supplier details
Head office
Tippings Farm
Lyndale Avenue
Wilpshire
Lancashire
BB1 9LP
UK

Supplier details last checked:
19 April 2016,

Next check due:
19-04-2018
Makerfield Ltd
's name for this product is
Kettle Tipper
Their product code is:
C080007
From

£19

Exc. VAT
Checked by DLF on 19 April 2016

Mail order
Online shop
X
Supplier details
Head office
Unit D Matrix Park
Western Avenue
Buckshaw Village Chorley
Lancashire
PR7 7NB
United Kingdom

Supplier details last checked:
07 July 2016,

Next check due:
07-07-2018
Betterlife at Lloyds Pharmacy
's name for this product is
Kettle Pourer
Their product code is:
KD639
From

£7

Exc. VAT
Checked by DLF on 07 July 2016
Mail order
Online shop
X
Supplier details
Head office
Office 182-190
Lomeshaye Business Village
Turner Road Nelson
Lancashire
BB9 7DR
England

Supplier details last checked:
12 September 2016,

Next check due:
12-09-2018
Ability Superstore
's name for this product is
Economy Jug Kettle Tipper
Their product code is:
35105
From

£12

Inc. VAT
Checked by DLF on 12 September 2016
Show room
Mail order
Home demo
Online shop
X
Supplier details
Head office
78-80 Station Road
Harrow
Middlesex
HA1 2RX
UK

Supplier details last checked:
31 October 2016,

Next check due:
31-10-2018
Mobility World Ltd
's name for this product is
Jug Kettle Tipper
Their product code is:
SN5774
From

£22

Exc. VAT
Checked by DLF on 31 October 2016
Show room
Mail order
Online shop
X
Supplier details
Head office
The Old Mill House
Mill Road
Reedham Norwich
Norfolk
NR13 3TL
United Kingdom

Supplier details last checked:
09 February 2017,

Next check due:
09-02-2019
Cobolt Systems Ltd
's name for this product is
Kettle Tipper
From

£15

Inc. VAT
Checked by DLF on 09 February 2017