Universal Kettle Tipper
Priced from
£20
(Exc. VAT)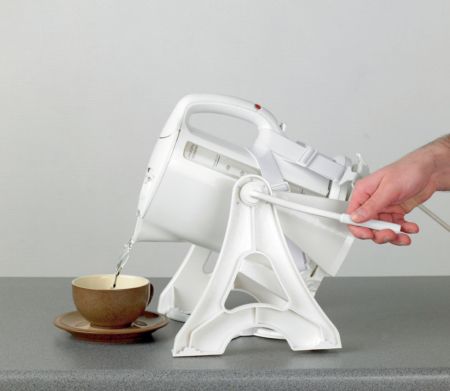 DLF's summary
Kettle tipper suitable for most kettle types including standard, jug and cordless kettles.
Features
plastic construction with slip-resistant feet
base plate, sliding stop and straps to secure kettle
lever positioned at either side to tip the kettle
kettle rocks back to upright position if the user lets go during use
Where can I buy this product?
The UK national suppliers that sell this item are listed below.

Show room
Mail order
Home demo
Online shop
X
Supplier details
Head office
88 South Street
Stanground
Peterborough
Cambridgeshire
PE2 8EZ
UK

Supplier details last checked:
11 September 2017,

Next check due:
11-09-2019
The Mobility Aids Centre
's name for this product is
Universal Kettle Tipper
Their product code is:
TMAC091207281
From

£25

Exc. VAT
Checked by DLF on 11 September 2017
Show room
Mail order
Online shop
X
Supplier details
Head office
Unit 2 The Summit Centre
Skyport Drive
Harmondsworth West Drayton
Greater London
UB7 0LJ
UK

Supplier details last checked:
06 December 2017,

Next check due:
06-12-2019
Medequip - Manage At Home
's name for this product is
Universal Kettle Tipper
Their product code is:
10392
From

£23

Exc. VAT
Checked by DLF on 06 December 2017

Mail order
Home demo
Online shop
X
Supplier details
Head office
Sherwood House
Cartwright Way
Forest Business Park Coalville
Leicestershire
LE67 1UB
UK

Supplier details last checked:
29 June 2016,

Next check due:
29-06-2018
NRS Healthcare
's name for this product is
Universal Kettle Tipper
Their product code is:
M82599
From

£20

Exc. VAT
Checked by DLF on 29 June 2016

Mail order
Online shop
X
Supplier details
Head office
32 Guildford Road
Brighton
East Sussex
BN1 3LW
England

Supplier details last checked:
31 May 2016,

Next check due:
31-05-2018
Essentialaids.com
's name for this product is
Universal Kettle Tipper
Their product code is:
HC091207281
From

£29

Exc. VAT
Checked by DLF on 31 May 2016
Mail order
Online shop
X
Supplier details
Head office
Unit 1 Brook Mill Estate
Station Road
Wrea Green Preston
Lancashire
PR4 2PH
UK

Supplier details last checked:
14 September 2016,

Next check due:
14-09-2018
Complete Care Shop
's name for this product is
Universal Kettle Tipper
Their product code is:
CCS815
From

£20

Exc. VAT
Checked by DLF on 14 September 2016