Standard transfer boards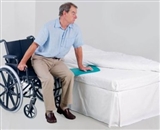 Listed here are standard transfer boards. They have a smooth surface, and are tapered at either end to assist sideways transfers.
To use: first place the board into position between two equal height seats, then carefully transfer yourself onto the board and slide across to the new seating area.