Turning mattresses & units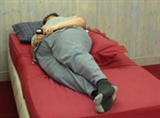 Turning units can be used on top of a domestic bed to turn a person from side to side.
They take the form of either a sectioned mattress which has an airbag under each side of the mattress that alternately inflates and deflates, or a turning sheet which moves around two rollers on a frame on either side of the bed. They can be controlled using a handset, or can be set to turn automatically.