Full length baths with whole side entry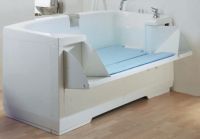 These baths are all full length and have a hinged or power operated door. Some models are longer than a standard bath at 2m in length, some have an integral seat.
Many of these baths are height adjustable, combined with thermostatic shower controls and have options for spa and whirlpool facilities. Some of the baths supply some cushioning as part of the purchase but additional cushioning may be required for support and positioning while in the bath. Read more on support and positioning in the bath.
On some of these baths the side folds out to form both a platform for transfer in and out of the bath and for use as a changing platform.
Some have a tilt option that tilts the whole bath back at a shallow angle. This may provide extra support and/or reassurance to a seated user but requires extra space. These baths are usually installed so that carers can access both sides.
General factors
The bath must be filled and emptied with the door closed. You may need the bathroom to be warmer as it can take some time for the bath to fill and drain1. The process can take a while, will you have the stamina and energy?
Some baths with side door entry have multiple wastes/plug holes which speeds up the emptying process. Alternatively, some models can be partially prefilled with water in the foot area, when the user gets in the bath can be tilted back and the warm water flows up to where the user is seated.
Integral seats may feel cold when you first sit on them, they can be warmed by running warm water on the surface before getting in1.
These baths may be operated by the you, your carer or both of you working together. Consider whether you can operate and lock the door; reach and operate the taps and plug controls; and sit down and stand up from the integral bath seat.
Access
These baths may be accessed by ceiling track, mobile or fixed bath hoists. If a mobile hoist is to be used clearance will be required under the bath.
Advice last checked: 04 November 2014 Next check due: 04 November 2017
All advice is either supported by references (cited in the text) or is based upon peer reviewed professional opinion. Our advice is impartial and not influenced by sponsors or product suppliers listed on the site.
Conflict of interest statement
References
Disabled Living Foundation 2014 Choosing equipment for bathing
View reference Last visited: 30/09/2015

Evidence type: 2

Pain, H., McLellan, L. and Gore, S. 2003 Choosing Assistive Devices: A Guide for Users and Professionals
Jessica Kingsley Publishers : London and Philadelphia

Evidence type: 1; 2