Doro Elliot Radio Alarm Sos Trigger Button
Manufactured by CareTech UK Sales Ltd
Priced from
£56
(Inc. VAT)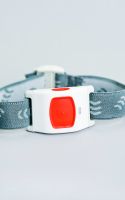 DLF's summary
Telecare personal alarm button/pendant with alarm received confirmation for manufacturer's telecare control unit.
Features
two buttons, one for emergency alarm, other can be used as a staff call button etc
LED lights up when the alarm signal is received
waterproof
battery can be changed
neck cord, bracelet, belt clip and easy press adaptor
Product dimensions
Transmitter
Range
100metres
Where can I buy this product?
The UK national suppliers that sell this item are listed below.

X
Supplier details
Head office
First Floor, Bridge House
Chiltern Hill
Chalfont St Peter
Buckinghamshire
SL9 9UE
United Kingdom

Supplier details last checked:
24 January 2017,

Next check due:
24-01-2019
Doro Care Ltd
's name for this product is
Elliot Radio Alarm Trigger
Their product code is:
300005
POA
Checked by DLF on 24 January 2017

Online shop
X
Supplier details
Head office
22 Atlas House
West Devon Business Park
Tavistock
Devon
PL19 9DP
UK

Supplier details last checked:
13 October 2017,

Next check due:
13-10-2019
Amano Connect
's name for this product is
Doro Elliot Radio Alarm SOS Trigger Button
From

£56

Inc. VAT
Supplied with Doro Gloria Carephone

Checked by DLF on 13 October 2017
National suppliers (Explain)
The following suppliers have not updated their product details for over two years. We list the last price they entered but provide less information on them. These records will be removed after three years. They can update their records using our self-service system.
| Supplier name | Guide price | Last updated |
| --- | --- | --- |
If you are one of the suppliers listed here, and don't know how to update your product information please contact our Data Services team to find out how to update your information.
Manufacturer's contact
This manufacturer may no longer be trading
CareTech UK Sales Ltd
Winchester House
259-269 Old Marylebone Road
London
NW1 5RA
UK
020 7616 4091
sarah.reeves@caretech.se
http://www.caretech.se/en-home.html
Manufacturer's product description
The Elliot alarm trigger has two-way transceiver communication for situations in which the user needs to have confirmation that the alarm has been acknowledged. When an alarm is activated the LED on the radio trigger lights up when the signal has been received. The alarm trigger has two buttons. Normally one is used for an assistance alarm while the other can be used for other purposes, such as an assault alarm, staff call button or intruder alarm. The alarm trigger comes as standard with all accessories: neck cord with attachment, bracelet, belt clip and the unique EPC (Easy Press Concept) for high security clip people with tactile disabilities as a result of medical conditions such as arthritis, illness or injury. The alarm trigger is totally waterproof and the battery can easily be changed to maximise lifetime cost efficiency. The Elliot alarm trigger is compatible with Gloria+, CareIP and CareIP Mobile Carephones