Portable call buttons with non portable receivers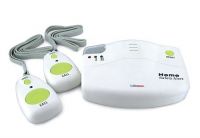 These systems can raise an alarm or trigger a pager a short distance away, within the range of an average house or garden. Thus they may alert a carer or relative that you require help. They are triggered when you press a personal alarm button, some can also be triggered by sensors such as a fire alarm. The receiving unit is not portable, consequently it needs to be located in a position where it is most likely to be heard by your carer or relative.
Some of the items in this section are available to borrow for free for two weeks in certain areas of the United Kingdom.

If you would like to have a look at our library content, please click this link to be taken through to the Library site.