Sequencer Communication Aid
Manufactured by Adaptivation Inc
Priced from
£180
(Exc. VAT)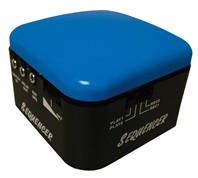 DLF's summary
Battery operated, one-button communication tool. Range of colours available. Compatible with traction pads. Sequencer enables programmable messages to be replayed in preset order.
Speechbubble's description:
The Sequencer enables you to record and play back a series of messages. Pressing the button (or a connected switch) causes the first message to play. Pressing it again activates message two, then three and so on. This allows individuals to carry on a conversation with a single switch and works well for reading a story, conducting a class report, participating in a school play etc. The device has two message levels for rapid contextual change, and a total recorded speech memory of 90 seconds. It's available in red, yellow, green, blue or purple, and is wheelchair mountable with a threaded black base. It has an external switch jack, an external speaker socket and adjustable volume. Powered by a 9 volt battery (included).
Features
90 seconds of digital recording
relay switch output
external switch jack
adjustable volume
Product dimensions
Features
Digitised or synthesised speech
Digitised speech
Dimensions
Height
5cm
Length
9cm
Width
9cm