Safe Presence Audio Attendant Monitor
Manufactured by Turun UK Ltd
Priced from
£40
(Exc. VAT)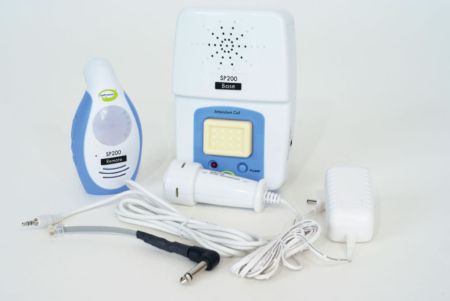 DLF's summary
Wireless two-way carer call system/intercom and alarm which can be used with accessories to alert carer when user gets out of bed or rises from chair.
Product models
There are 4 models of this product available. Suppliers may not supply them all:
Monitor 32612
Floor Sensor Pad 32722
Bed Sensor Pad 32720
Chair Sensor Pad 32721
Features
three audio settings - no audio which does not transmit any audio, push to talk which allows the user to communicate with the carer whenever they need to by pushing a button on the base station, always on which allows the carer to hear the user at all times
portable pager like receiver with speaker, microphone, volume dial, talk button and clip
base station with speaker, microphone, power button, large call button, socket for connecting a call button (supplied), socket for connecting a floor sensor mat or bed sensor pad (not supplied)
base station can be battery or mains powered (adaptor supplied)
pager has rechargeable batteries and uses the same mains adaptor to recharge
Product dimensions
Transmitter
Wireless pager
Standard
Where can I buy this product?
The UK national suppliers that sell this item are listed below.

Mail order
Home demo
Online shop
X
Supplier details
Head office
Sherwood House
Cartwright Way
Forest Business Park Coalville
Leicestershire
LE67 1UB
UK

Supplier details last checked:
08 June 2016,

Next check due:
08-06-2018
NRS Healthcare
's name for this product is
Safepresence Fall Defence System
Their code/s for this product and any variants are:
- System M76813
- Sensor Bed Mat M76795
- Sensor Chair Mat M76801
From

£40
- £179

Exc. VAT
Checked by DLF on 08 June 2016

Mail order
Online shop
X
Supplier details
Head office
52 The Droveway
Hove
East Sussex
BN3 6PP
England

Supplier details last checked:
13 June 2016,

Next check due:
13-06-2018
Essential Aids (essentialaids.com) Ltd
's name for this product is
Safepresence Fall Defence System
Their code/s for this product and any variants are:
- System NRM768131
- Sensor Bed Mat NRM76795
- Sensor Chair Mat NRM76801
From

£45
- £190

Exc. VAT
Checked by DLF on 13 June 2016
Online shop
X
Supplier details
Head office
Tippings Farm
Lyndale Avenue
Wilpshire
Lancashire
BB1 9LP
UK

Supplier details last checked:
03 August 2016,

Next check due:
03-08-2018
Makerfield Ltd
's name for this product is
Safe Presence 200 Alarm System
Their product code is:
MK1311
From

£125

Exc. VAT
Checked by DLF on 03 August 2016
Mail order
Online shop
X
Supplier details
Head office
Office 182-190
Lomeshaye Business Village
Turner Road Nelson
Lancashire
BB9 7DR
England

Supplier details last checked:
04 August 2016,

Next check due:
04-08-2018
Ability Superstore
's name for this product is
Safe Presence Audio Attendant Monitor
Their code/s for this product and any variants are:
- Monitor 32612
- Floor Sensor Pad 32722
- Bed Sensor Pad 32720
- Chair Sensor Pad 32721
From

£98
- £275

Exc. VAT
Checked by DLF on 04 August 2016
Manufacturer's contact
Turun UK Ltd
Bedford House
Fulham Green
69-79 Fulham High Street
London
SW6 3JW
UK
020 7731 0132
sales@turun.co.uk
http://www.turun.co.uk
Manufacturer's product description
Standalone Solution. The SafePresence Caregiver Communicator is a versatile product that allows you to be out of the room and still in touch with the person in your care. Easy voice-to-voice communication means you can respond quickly while taking care of daily chores and responsibilities. Digital Audio Communication: - The SafePresence Caregiver Communicator uses 2.4 GHz digital technology, so you can hear clearly on a wireless pager you carry. Carers always have the ability to talk to a patient by pressing the "Talk Button" on the pager. The carer and the patient decide the appropriate audio setting on the Base Station Monitor in the patient's room. Choose from: - No Audio - Allows complete patient privacy - Push to Talk - Allows the patient to communicate with the carer whenever they need to - Always On - Allows the carer to hear the patient at all times - Falls Prevention A variety of monitoring options integrate easily with the SafePresence Caregiver Communicator to help you provide the highest quality care. A Sensor Select Switch allows you to choose between floor sensor mats or bed and chair sensor pads to monitor persons who wander or who are at risk for falls. The variety of options available on the SafePresence Caregiver Communicator allow carers to change the monitoring and audio settings to meet the needs of each patient as the health status of the patient changes. Features: - Powered by mains power or rechargeable battery - Adjustable volume - Power and out of range alerts - Versatile placement on wall or desk - Stationary or portable wireless receiver - Individualized ID codes to reduce RF interference - One year limited warranty Key Components: - Wireless Receiver with audio - Base Station Monitor and Transmitter - Call Cord with internal microphone Accessories: - Safepresence Bed Sensor Pad - Safepresence Chair Sensor Pad - Safepresence Treadnought Floor Mat