Toilets with integral wash and dry facility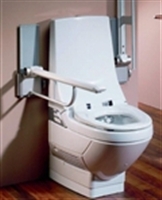 These toilets provide automatic flushing, warm water washing and warm air drying. They can be operated by a range of controls, including remote controls, elbow, foot or hand operated switches or used as a conventional toilet (Jones and Ryan, 2006). They may assist a person to toilet independently or allow a carer to assist without providing intimate care. Some of these models are more suited for sideways transfers for wheelchair users as they have a higher weight capacity.
Some shower, over toilet & commode chairs can be used over these toilets to provide additional support and/or reduce the number of wheelchair transfers.