Grab handles for adjustable beds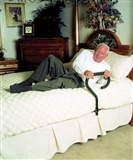 These bed grab handles may adjust in height and/or width to accommodate different bed sizes. Some also fold or dismantle for storage and transportation. They are secured by positioning part of the structure under the mattress or by attachment to the bed frame.
These handles may help the user move when in bed and also to sit up and transfer to and from the bed.