Rope ladders & pull straps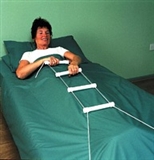 Rope ladders and pull straps are attached to the foot of the bed - either the foot board, the bed frame or the two end feet. They are lightweight and easily transported.
Rope ladders have rungs which the user pulls on to help him/herself into a sitting position. A pull strap has loops to pull on instead of rungs. Some straps have a clip that makes it easier to secure the strap to the bed.