Case study - how equipment helped Thomas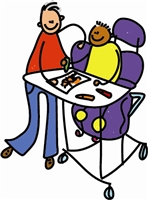 The concern:
Thomas was recently provided with some specialised crockery and cutlery to assist him to eat independently. However, Thomas is declining to use any of this equipment, as he wants to use the same knives, forks and plates as his brothers.
The solution:
Thomas' parents purchased a plateguard to trial in place of the specialised plate Thomas had been provided with. The plateguard is clipped onto standard crockery and provides a wall that food can be pushed up against. This also stops food from spilling off of the plate and onto the table.
The cutlery that Thomas had been provided with, has built-up handles and no other special features. So, Thomas' parents sourced foam tubing to build up the handles of their standard cutlery. This means that Thomas can use the same cutlery as his brothers.
The outcome:
Whilst the items that Thomas' parents sourced means that his crockery and cutlery have to be adapted - Thomas is much happier with this than the previous equipment. These two items allow Thomas to continue to eat independently and have bought relative peace back to family mealtimes!
---
To view the equipment solutions mentioned above, click on the product images below: