Case study - how equipment helped Tehream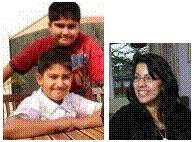 The concern:
Tehream is a single mum who cares for her 2 sons (7 & 12) who are severely autistic and profoundly deaf. Her younger child is currently in foster care with regular home visits. Tehream has not had a full night's sleep for ten years and is finding it increasingly difficult to manage as her sons grow bigger and stronger. Her eldest son left the sink running and flooded the kitchen and both sons are prone to leaving the house by the windows and doors, causing danger to themselves
The solution:
A telecare solution that allows Tehream to know as soon as an incident occurs, via a pager during the day and an under pillow vibrator at night. The solution includes:
A bed occupancy sensor for each of the boys' beds. If the boys get out of bed in the night and don't return within a preset period of time, Tehream is woken.
Flood detectors in the kitchen and bathroom, for in the event that her sons leave the water running again.
Property exit sensors on the door to property and also on the windows. With these in place, if the boys leave the house without Tehream's knowledge she is alerted via either the pager or the under pillow vibrator.
The outcome:
Tehream says ''I have been able to get a good night's sleep for the first time in many years, as I no longer have to stay awake at night worrying about my sons' activities. I also know I'm not completely alone in caring for my children. They would both be in foster care if it wasn't for telecare''.
---
To view the equipment solutions listed above, please click on the product images below. Please note that we do not list telecare products which are specifically for children - the products we have listed are suitable for children, adults and older people. Therefore, when you click on the products you will be taken to the main Living made easy website, and away from Living made easy for children.