Case study - how equipment helped Sylvia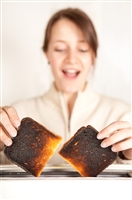 Sylvia is 35 years old and lives with her husband in a ground floor flat. Sylvia is not able to use her right side, following a stroke a couple of months ago. She is not happy with the meals her husband is making and wants to restore her independence within the kitchen.

Her concerns:
She is finding that she becomes unsteady and tired whilst standing for long periods. She would like to be able to open jars, cans, peel, chop and slice food using her left hand only and continue to cook on her gas stove.


The solution:
Sylvia contacted her local social services for a needs assessment who arranged an assessment with an Occupational therapist. The Occupational Therapist visited Sylvia at home. She agreed that there were issues around Sylvia's safety in the kitchen and preparing meals and arranged for the installation of:
A perching stool, so that Sylvia can conserve her energy when preparing food at the sink or worktop. They have a sloping angled seat and are suitable for people who can take some of their weight through their legs. Because of this semi-standing position less leg room is needed, which can enable a user to get closer to certain work surfaces.
A table top peeler can be clamped to her kitchen table edge, so she can peel one-handed. Some similar products combine this feature with a grater.
A cutting board with a slip-resistant base will clamp vegetables allowing Sylvia to chop her vegetables and butter bread using one hand.
An autochop means Sylvia can finely chop vegetables as she requires using one hand.
Sylvia can put food into a cooking basket and then put it into her saucepan which means she does not have to carry a hot and heavy saucepan and can manage independently again.
The slip resistant mat can be used to stabilise something for example, a mixing bowl so that Sylvia is able to beat eggs with one hand without the bowl sliding. She will need to read the instructions of these mats as some of these are only heat tolerant to a certain temperature. So they cannot be used with very hot pans.
An electric free standing tin opener is ideal for Sylvia to use on a wide range of tins.
A wall mounted screw lid opener means this jar opener can be fitted under a cupboard, saving space in Sylvia's kitchen. This piece of equipment will allow Sylvia to open a range of screw lid jars using one hand.
The outcome:
Sylvia was very happy and felt slightly nervous and excited about being able to cook a meal again. Her husband was also thrilled because she was happier and he missed his wife's cooking. When the Occupational Therapist reviewed the situation she was confident that Sylvia was safe to cook in the Kitchen again. She said "With the adaptive kitchen equipment Sylvia is now confident and able to safely manage cooking. These are low cost pieces of equipment which provide a great benefit to service users like Sylvia."
To view the equipment solutions listed above, please click on the product images below.