Case study - how equipment helped Michael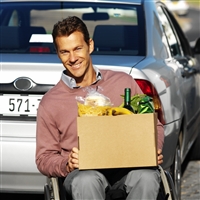 Michael has been living in temporary accommodation following a period of rehabilitation in hospital since he had a serious road traffic accident which now means he is using a wheelchair.
His concerns
He would like to plan and purchase a fully accessible kitchen which allows him to independently cook for himself and on occasions hold dinner parties. He wants the kitchen to be modern, made to measure and to include accessories that will allow him to use a range of household gadgets independently.
The solution
He contacted a specialist kitchen company who discussed his needs for a new accessible fitted kitchen. He was able to incorporate the particular features he required and wanted. These included a pullout shelving in a corner unit, a pullout larder system and an induction hob. He included a hot and cold water dispenser in the design of the kitchen.
Why did he include these features?
The pullout corner unit allows him to access a range of saucepans and serving containers. The pullout larder system has a large storage capacity for a range of tins and packets he uses for cooking. The induction hob is much more responsive to use than traditional hobs and safer than gas, saves electricity and is easier to clean. The hot and cold water dispenser means he has instant hot water for making hot drinks or cooking food, for example, pasta, eliminating the need for carrying a kettle.
The outcome
He was delighted with the result. He was able to access all parts of the kitchen storage and cook as he wanted to.
To view the equipment solutions listed above, please click on the product images below.

---


For further information you may wish to read our advice on:
- An assessment with an occupational therapist
- Funding adaptations,
- Kitchen layouts or
- Planning an accessible kitchen or
- AskSARA's kitchen section.
What is Ask SARA?
AskSARA is the Disabled Living Foundation (DLF)'s free online self assessment tool. AskSARA will ask you questions about yourself and your environment (in this instance, in the kitchen cupboard section using the worktops, sink and drawers, or questions about using kitchen appliances) and then offer relevant advice, product suggestions and supplier details.