Case study - how equipment helped Graham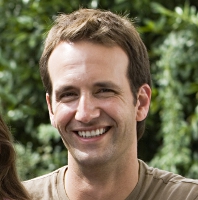 Graham is 45 years old and has Multiple Sclerosis. He lives with his wife in a two bedroom flat. Graham uses a wheelchair to get around both inside and outside his flat. He has recently become more dependent on his wife and personal assistants at mealtimes due to an increase in uncontrolled movements in his arms, particularly on his left side. He would like to be more independent at mealtimes so he can feed himself without assistance.
The concern:

Graham finds that he cannot keep food on his plate and it often spills on the table and onto the floor. He also finds he spills food and drink on his clothes at most mealtimes. To overcome this his wife and personal assistants have been feeding him to reduce the amount of cleaning up after meals. Graham feels like he has lost his independence and feels embarassed at mealtimes, and therefore avoids eating out or in the company of family and friends.
The solution:
Graham was visited at home by an occupational therapist from his local authority. The occupational therapist recommended the following equipment:


A plateguard, to help prevent Graham pushing food off the edge of his plate. This also enabled Graham to use one hand for eating, as he could use the plateguard to help put food onto his fork.
A slip resistant mat to help stop Graham's plate and cup from moving during meals.
A bib with a trough, to protect Graham's clothing during meals, and to help prevent spilled food from falling to the floor.
A spill-resistant cup with a lid and straw to help prevent spillage of drinks.
The occupational therapist also gave some advice to Graham's wife and personal assistants, advising that they prepare meals that didn't require any cutting, or to cut food up if needed prior to giving to Graham to eat.
The outcome
With some practice, Graham was able to use all his new equipment effectively and was able to eat his meals independently, with only the occasional spill. He felt a lot happier at mealtimes and felt that he had regained some of his independence. Graham's wife was also very pleased with the outcome, as she can now sit at the table with him and enjoy a meal together, without needing to assist him.
To view the equipment solutions above, please click on the product images below: