Case study - how equipment helped Janice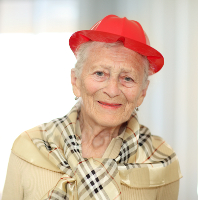 Janice is 76 and lives alone in her house. Her daughter and son visit her regularly and she enjoys an active social life. She has rheumatoid arthritis which affects her hands, and she finds it difficult to grip and hold many objects.
The concern:
Janice is finding she is having increasing difficulty at mealtimes. She finds she often drops her knife and fork, and also has trouble holding her knife to cut food. She has also spilled drinks on a few recent occasions, and is concerned she may spill a hot drink and burn herself.
The solution:
Janice and her daughter found her local Independent Living Centre through Assist UK and visited to view and try out equipment available that could help Janice. The trusted assessor showed Janice the following items:
Cutlery with large handles, to help Janice grip the handle of her cutlery more easily,
A rocker knife to help reduce the amount of effort required to cut food,
A mug with large handle and lid to help improve Janice's grip on the cup and reduce the risk of spillage,
A carrying tray, to make carrying items to and from the table easier and safer.
The outcome:
Janice tried out several different items at the independent living centre, and decided what was best for her with the help of the trusted assessor. The trusted assessor was able to give her the information she needed to purchase the items. Janice was very happy with her new equipment and now finds it much easier to grip and hold the items, and feels much safer with her new mug. She is now enjoying her meals again, and no longer gets frustrated with dropping things frequently.
To view the equipment solutions above, please click on the product images below: