Case study - how equipment helped Paul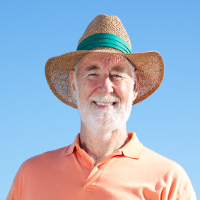 Paul is an unemployed 56 year old with severe osteoarthritis of his right hip and deteriorating problems in his lower back. He has recovered well from surgery after he fractured his left hip. At the moment, he is unable to walk at all and currently transfers from his bed and chair using a hoist.
Paul has good upper limb body strength and is now allowed to weight bear. Paul is concerned about the fact that he currently doesn't have any mobility and is no longer functional and he requires increased assistance in all areas of activities of daily living such as going to the toilet, transferring in and out of bed. Paul fears being confined to one room if he continues to be transferred by a hoist, which in turn will limit his participation in other areas of activities of daily living.
The concern:
Paul is anxious to be as independent as possible. In the long term he would like to use a self-propelling wheelchair for indoor and outdoor use. He is keen to find out from the physiotherapist on the ward, if there are any pieces of equipment he can use to help him to start standing again.
The solution:
Paul has very good upper limb strength and sitting posture. The Physiotherapist prescribed a static vertical standing frame by which allows him to improve his lower limb strength and regain his balance.
The outcome
Paul is slowly becoming more independent again. He is increasing his level of participation in daily activities. He feels more optimistic now about the future as he sees there are a range of pieces of equipment that can help him as he rehabilitates and the static vertical standing frame will be on loan to him when he returns home.
To view the walking & standing equipment listed above click on the relevant pictures below:

---
For further information you may wish to read our advice on:
- Benefits of standing frames
- An assessment with a Physiotherapist
- Equipment provison through local authorities and direct payments