Case study - how equipment helped Mandy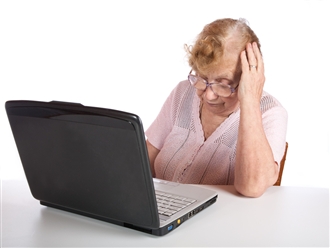 Mandy lives with her husband in a semi-detached house. They manage independently with daily activities although Mandy is finding it harder to read small print/text.
The concerns
Mandy likes to send and receive emails from her grandchildren and a friend who lives in France. She prefers to use a laptop as it is more compact than a desktop and she can put it away when not in use. Mandy has difficulty with her sight. She has been shown how to enlarge items on the screen but has difficulty seeing the letters on the keyboard and cursor on the screen. She knows she can plug an extra keyboard into her laptop but wonders if any are available which she may find easier to use.
Possible solutions
Mandy looked through the computer use section of Living made easy and completed the Using your computer section on AskSARA (our free online guided advice tool) and short listed two possibly types of computer keyboard:
Mandy thought that with both larger print on a keyboard and high contrast keys with black letters on a yellow background she would find it a lot easier to see the keys.
Mandy thought that having larger keys as well as large high contrast labels on a keyboard may help make it even easier for her to use than the above standard key size, large print & high contrast keyboards.
Mandy was not interested in large print keyboard stickers as she wanted to have the flexibility of a separate key board with her laptop (she liked to raise the laptop so its screen was higher). Her husband, who also used the laptop, was not keen on having stickers attached to the keys.
---
Mandy's choice and the outcome
Mandy tried a standard key size large print high contrast keyboard in her local Independent living centre. She found it easy to use and so decided to buy one and not one of the larger big button keyboards. She bought one from a supplier listed on this site.
Mandy got on well with her large print high contrast keyboard and her enlarged cursor and continued emailing, and now messaging, her friends and grandchildren.