Case study - how equipment helped Anne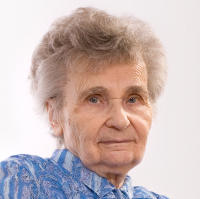 Anne is 82 and has osteoarthritis affecting her hands, hips and knees. She lives in a two bedroom flat with her husband. She walks around her home without any walking aids, but uses a walking frame outside. She has recently begun to find some dressing tasks difficult, due to increased pain and stiffness in her left hip and in her hands. She has asked her husband for help a few times recently, but is very keen to be as independent as possible.
The concern:
Anne finds it difficult and painful to bend low to put on and fasten her shoes, or to pick items up off the floor. She also finds some of the fastenings on her clothing difficult to manage, such as the small buttons on some of her blouses and cardigans. She has been managing, but tasks take her a long time and she sometimes asks her husband to help her if things take too long.
The solution:
Anne and her husband went to see an occupational therapist. Anne was able to try out a few different items of equipment at the centre, and the occupational therapist gave her some advice on how her clothes might be adapted. Anne then purchased the following equipment from a local supplier:
A long handled shoe horn, which will help Anne get her shoes on without having to bend low.
A long handled reacher, to enable Anne to pull up clothing from the floor, such as trousers, without the need to bend low.
Elastic shoelaces, which converted Anne's lace-up shoes into slip ons, therefore eliminating the need for her to fasten them.
The occupational therapist also gave Anne some advice on simple adaptations to her clothing. She suggested fitting some velcro dots to some of Anne's blouses, so that she would no longer need to struggle with the small buttons. She was also able to show Anne some techniques for putting on trousers to help reduce movements that were causing pain.
The outcome
Anne now uses all of her equipment on a daily basis to help her with getting dressed. Anne's daughter was able to make adaptations to some of her blouses by fitting velcro dots, so she no longer struggles with small buttons. Anne now rarely needs to ask her husband for help, and is happy to be independent again.
To view the equipment solutions above, please click on the product images below: