Case study - how equipment helped Eric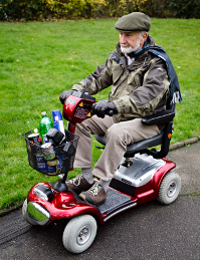 Eric is a 60 year old who has retired early due to worsening cardiac failure. He still manages to remain independent with all activities of daily living (ADL) by using various equipment and learning energy conservation techniques. Because of continued tiredness, shortness of breath (especially during physical exertion), oedema and swollen legs. Eric now mobilises with a walking stick indoors and outdoors however outdoor mobility has become increasingly difficult. Eric lives in a 3 bedroom semi detached house with level access to the garage at the side of the property. There is a 2" inch threshold at the front access of the house, leading into the hallway. His wife transports him around as he no longer drives a car.
The Concern:
Currently Eric is at risk of losing independence in accessing the community. He likes to visit his mother and participate in church activities regularly which he particularly enjoys. He also attends the wellness centre.
The Solution:
Eric was advised by the Social Services Occupational Therapist to visit his local Mobility Centre for an assessment. At the Mobility centre, they assessed his ability to drive a scooter, gave him advice about suitable scooters to suit him and suggestions on any adaptations or accessories he may need. Eric will purchase his scooter through the Motability Scheme. He was advised about the risks to take into consideration when using his oxygen cylinder in the community.
The Outcome:
It was recommended that a class 2 scooter with three wheels will be suitable to meet Eric's needs. This type of scooter has a tight turning circle which is suitable for indoor use. The swivel seat will enable easier transfers, in the basket he can carry light items and Eric's oxygen cylinder can also be attached to it. The social services OT prescribed a portable ramp for the front access of the property. He will be able to charge and store the scooter in his garage.
The mobility scooter will allow Eric to continue to participate in the activities he enjoys, maintain his independence whilst taking some of the pressure from his wife.
To view the equipment solutions above, please click on the product images below:
---
For further information you may wish to read our advice on:
- Maintenance and repairs
- An assessment with a Occupational Therapist
- Equipment provison through local authorities and direct payments