Case study - how equipment helped Phillip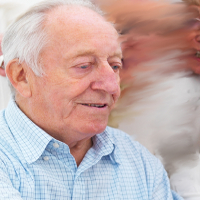 Phillip is a 76 year old widower suffering from longstanding rheumatoid arthritis. His wife died 2 years which has left him suffering from depression. He lives in a 2 bedroom bungalow, which has no steps at the front access and a big rear garden. Five years ago Phillip stopped driving when he had right eye cataract which has now been successfully surgically corrected. He no longer drives a car, but would like to meet up with some of his old work colleagues and go to his local shops.
The Concern:
Philip is at risk of being socially isolated from not being able to access the community. Since the passing of his wife, Phillip has become very dependant on his son, who transports him to the shops.
The Solution:
Phillip and his son visited their local Disabled Living Centre. The Occupational therapist (O.T) provided impartial advice about the different types of scooters they had in the demonstration centre. Phillip seemed slightly nervous about trying one. The OT demonstrated the correct way to drive a scooter and explained about the different features and the speed they could go at. This included explaining the difference between a Class 2 and Class 3 scooter or buggy.Phillip was given information about obtaining an assessment at his local Mobility centre and information about Rica which has an online powered wheelchair and scooter database.
The Outcome:
Phillip's son accessed the Ricability consumer report online and was able to find some suitable scooters that met his father's needs. He was able to search by make,model,search for particular features Phillip wanted. He found details of helpful organisations and information about using and buying a scooter.
With some of these scooters in mind, Phillip and his son visited their local mobility scooter supplier and purchased one.
The mobility scooter will allow Phillip to increase his independence in getting around his community and enable him to live a better quality of life.
---
Further information :
- Maintenance and repairs
- An assessment with a Occupational Therapist
- Equipment provison through local authorities and direct payments
- Mobility Centre