Case study - how equipment helped Cilla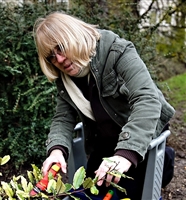 Cilla, age 66, lives with her husband in a three-bedroom house with a garden. Her husband has recently retired and they both enjoy being outdoors, gardening and entertaining particularly in the summer time. She has osteoarthritis in her hands and knees. She has recently been bereaved and has been prone to depression in the past. Recently she has found it harder to prune her roses, plant her annuals due to her problems in her knees.
Her concerns
Cilla wants to be able to continue gardening which is one of her main hobbies. She is concerned about getting depressed and stiff in her joints as she is now not able to do as much exercise as previously. Her husband is active doing more of the heavy work in the garden and she wants to be able to join him outside now they have more quality time together.
The solution
Cilla contacted the information line of Thrive, one of the main national gardening charities. She was able to get information about anvil secateurs with revolving handles, and a garden kneeler which doubled as a stool.
The outcome
The kitchen kneeler she chose was lightweight and easily portable. She was able to comfortably kneel down on the padded seat to plant her annuals she had bought from the garden centre and the handles helped her to stand up again. She was then able to sit on the stool and prune her rose bushes. The secateurs made the pruning much easier. She had a sense of achievement seeing her garden in much better shape and enjoyed being outdoors. She was able to plan further projects for her garden so she had more colour throughout the year.

For further information read our advice on garden design or access your garden.
AskSARA
If you would like advice regarding issues with your garden and questions relating to managing outdoors then you could try the garden and outdoor sections of AskSARA. AskSARA is the Disabled Living Foundation (DLF)'s free online self assessment tool. AskSARA will ask you questions about yourself and your situation (in this instance how you manage using garden tools, or bending down) and then offer relevant advice, product suggestions and supplier details.
- AskSARA's Garden or outdoor area
---
For further information you may want to read the gardening
Thrive's information line, contact page
or
Thrive's
carry on gardening advice.