Case study - how equipment helped Claire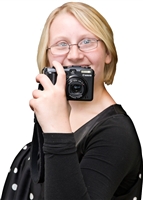 Claire, age 26, who has spastic cerebal palsy lives in a group home with five other residents. She has signed up to a local college photography course with a few friends.
Her aspirations
Claire wants to be able to develop her photography skills further which is one of her main hobbies. She uses a switch-enabled computer and related software. She wants to purchase a suitable camera and send photos to her friends and family.
The solution
Claire searched for a switch enabled camera on the Internet and found the Living made easy cameras and photography section which gave her details of a suitable supplier. She decided to purchase a camera with a switch interface.
The outcome
Claire was able to use the camera with a switch to focus and take pictures. She was able to take pictures on her course and send them to frends and family from her computer.
.
---
For further information you may wish to read our advice advice on
choosing a camera and accessories.
AskSARA
If you would like further advice regarding computing equipment you could try relevant sections of AskSARA. AskSARA is our free online guided advice tool. AskSARA will ask you questions about yourself and your environment and then offer relevant advice, product suggestions and supplier details.
-AskSARA's Computer use section
Disabled Photographers' Society provide technical advice or help with modifications and can advise on or supply supports on loan to enable photographers with a range of disabilities to use cameras and take photographs. They publish a magazine 'In focus.'