Case study - how equipment helped Mr Beaty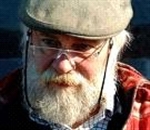 Mr Beaty is 79 years old. He lives alone in his own house but he feels vulnerable at times and anxious about what will happen if he has an accident during the day or night.
His Concern:
Mr Beaty begins to wonder how he can get help in an emergency and realises that his family now live 50 miles away and cannot be there quickly in an emergency.
The solution:
The local age concern visitor tells him about a community alarm scheme which provides a way for him to summon help in an emergency at home. She explains that the alarm system consists of:
A small personal alarm button he can wear around his neck or wrist. When he presses the button it sends a signal to a...
control box / base unit unit which sits near his telephone and receives a signal from the pendant anywhere in the house or garden.
When the personal alarm button is pressed the control box automatically calls the control centre where an operator is waiting 24 hours a day to alert a carer or doctor. The operator will see on his/her computer screen the personal details supplied by Mr Beaty and the names and addresses of three friends or relatives he has named. The operator can contact the nearest available one to come with a key to let themselves in and assist Mr Beaty. Alternatively, a mobile warden can be asked to respond to the call. Mobile wardens will require a
key safe
system in place so they can get in to Mr Beaty's property to respond to the call. As Mr Beaty's family live 50 miles away he favours having his calls sent through to the mobile warden.
Mr Beaty received reassurance that if the power fails, or the batteries run low, or the telephone line is faulty then there are mechanisms in place to alert him and/or the control centre.
The outcome:
Mr Beaty feels a lot safer and reassured that if he requires assistance he only has to press a button.


---
To view the telecare equipment listed above click on the relevant pictures below: