Case study - how equipment helped Peggy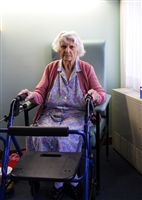 Peggy is 82 and lives alone. She uses a zimmer frame to mobilise around her home and keeps one frame upstairs and one downstairs. Peggy had a second handrail installed on the wall alongside her stairs two years ago following a visit by an occupational therapist. She uses both her banister and stair rail when going up or down stairs.
Her concerns:
Peggy has now started to feel unsafe at the two bends in her staircase. She feels the wall mounted rails are too far away and her newel posts (the upright posts to which banisters connect) offer no hand holds. Peggy's anxiety about her stairs is interfering in her daily life as she is avoiding using them as much as possible. For example, she is drinking less as she is trying to cut down on the number of times she needs to use her toilet (which is upstairs).
The solution:
Peggy contacted her local social services who arranged a new assessment with an occupational therapist. The occupational therapist visited Peggy at home and arranged for the installation of:
1) Two Newel rails installed on Peggy's two newel posts. These provide a handhold around the stair facing sides of the newel posts.
2) A commode kept downstairs so that Peggy does not have to go upstairs every time she needs to use her toilet.
The outcome:
Peggy finds the newel rails very reassuring, they have restored her confidence going up and down stairs. Peggy is back to her old self and goes up and down her stairs several times during the day. However, she did not like the commode. At first she was worried what visitors would think and then it became unnecessary as she was more confident going up stairs. Peggy phoned her occupational therapist and arranged for the commode to be collected.
Peggy's Occupational Therapist said "The newel rails are ideal for Peggy as they provide a handhold around the newel posts on her stairs. There is now somewhere for her to hold on to from every step on her stairs and her confidence has increased dramatically. It's great how small aids like these can make so much difference to peoples' lives."
---
Use this link to read advice on stair rails or to view newel rails click on the picture below: