Case study - how equipment helped Cyril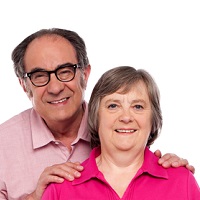 Cyril is 69 and lives with his wife Alice in their two storey house. Cyril experiences pain from rheumatoid arthritis in his hips, ankles and wrists and becomes short of breath when walking more than a few feet.
Cyril and Alice's bedroom, toilet and bathroom are on the first floor. On the ground floor there is another toilet, a shower, lounge, reception, kitchen and dinning room. Cyril's stairs have two 90 degree bends, one near the bottom and one near the top. The stairs have a wooden banister, as well as mopstick and newel rails which were installed five years ago following an occupational therapist's visit to assess Cyril on his stairs. At the immediate bottom of the stairs there is a doorway through to Cyril and Alice's lounge.
Their concerns:
Cyril no longer has the strength to walk upstairs. The last time he tried he got to the first bend, but then sank to his knees exhausted. Alice had to phone their son to ask him to come round and help Cyril back to his chair. Since then Cyril has been sleeping in an armchair downstairs. Cyril's son contacted social services requesting an assessment for Cyril. An occupational therapist visited and recommended the reception room be converted into a bedroom for Cyril. Cyril and Alice discussed their options and decided to investigate the possibility of having a stairlift installed as Cyril preferred to carry on sleeping in his existing bedroom if possible.
The solution:
Cyril and Alice invited reps from two stairlift companies to visit and quote a price. Both companies quoted a price for:
A curved rail seated stairlift to take Cyril all the way up or down his stairs. The stairlifts quoted had:
- A powered hinged rail so the track could be folded out of the way of the lounge door when not in use.
- A powered foot rest so Cyril and Alice can easily fold the foot rest out of the way when not in use, and back down when in use, without having to bend down.
- A powered swivel seat to turn the seat to face the hall when it reaches the top of the stairs. Cyril preferred this option to a stairlift with a manual swivel seat as these require the user to operate a lever and he thought this may be painful with the arthritis in his wrists.
The outcome:
Cyril and Alice chose the first of the two stairlift companies to install their stairlift as they felt the company's aftersales service and maintenance package was more comprehensive. Cyril is very happy with the stairlift. He travels up and down his stairs independently and states he wishes he had brought it several years earlier. Alice still walks up and down the stairs but uses the stairlift herself occasionally when she is tired or carrying laundry.
---
Use these links to read about
stairlift features
,
stairlift questions and answers
or
tips when buying a stairlift privately.
To view seated stairlifts for curved stairs click on the picture below: