Case study - how equipment helped Fred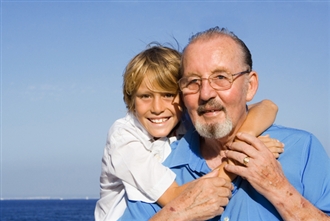 Fred is 70 and lives with his son Andrew in their two storey house. Fred has received bilateral (both left and right) knee replacements and a total hip replacement of his left hip. Fred only has a limited amount of movement in his knees, which means he cannot bend his legs very far.
Fred's bedroom, the toilet and bathroom are on the first floor. There is a small lounge and kitchen on the ground floor. Fred's staircase has a straight flight of 13 stairs. The stairs have a wooden banister, and a mopstick rail which was installed two years ago by his son.
Their concerns:
Due to the restricted movement in his knees Fred can no longer lift his feet high enough to manage steps and stairs. Thus he is unable to use his stairs and he has been sleeping in an armchair. He thought about obtaining a stairlift but when he tried one at a friend's house he couldn't use it as when he sat on the seat he was unable to bend his knees sufficiently to fit within the staircase. Fred contacted his local social services who arranged for an occupational therapist to visit and complete an assessment.
The solution:
The occupational therapist recommended a standing stairlift to transport Fred up and down his stairs. This avoids any need for Fred to bend his knees. He is able to stand unaided for several minutes, significantly longer than the time the stairlift requires to get to the top or bottom of the stairs. The therapist assisted Fred and Andrew to apply for funding (via a Disabled Facilities Grant) for the stairlift. The funding was approved and the stairlift installed. It features:
- A straight rail as Fred's stairs do not have any bends.
- A joystick control which Fred finds easy to operate independently.
- A safety barrier arm which Fred holds on to, aiding his balance while on the stairlift

The outcome:
Fred is very happy with the stairlift. He uses it independently several times a day. However, Fred feels that the process of obtaining first the funding, and then the stairlift took too long.
Fred's son Andrew is also pleased with the stairlift. He states "It doesn't take up as much space as I feared and I can easily get passed the lift when using the stairs myself. The foot rest will fold up but I've enough room even with it down so I don't touch it. My Dad is certainly more active around the home. His only complaint is that the lift doesn't take him upstairs as fast as he'd like, he wants a turbo button!"
---
Use these links to read about
stairlift features
,
stairlift questions and answers
or
tips when buying a stairlift privately.
To view standing and perching stairlifts click on the picture below: