Active user wheelchairs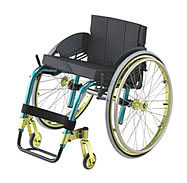 These chairs are designed for children who are active, full-time wheelchair users. They are made of light weight materials (such as aluminium, titantium or chrome) and are designed to be easily manoeuvrable.
They are more flexible than standard manual wheelchairs and can be adjusted to meet individual requirements so that children can achieve the maximum amount of mobility.
Many have a rigid frame with a folding back and quick release wheels. Some have folding frames and a few offer a choice of frame styles. They are becoming increasingly popular as they offer a sporty appearance and promote children's independence.