Hand held communication aids - selection via buttons or specific areas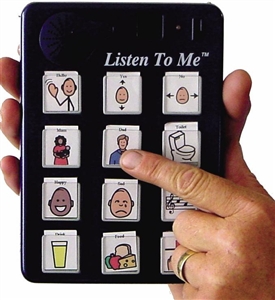 This section lists hand held communication aids with direct selection. This means that the products have symbols on buttons or cells which you press to generate speech output. They may have as few as one or two messages to choose from, or they may have hundreds of messages (Abledata, 2008).
The speech output may use digitised speech, synthesised speech or both. Digitised messages are created by recording spoken words directly into the communication aid which can be re-recorded as your needs change. Synthesised speech is artificial, computer-generated speech - the quality of which is far better than it used to be (Abledata, 2008).
The larger the button or cell size, the less hand control is required to press the button or cell. If you do not have enough hand control or strength though, you may like to view a range of hand held communication aids with switch input (Abledata, 2008).