Hoist slings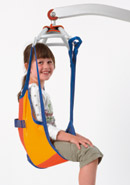 Included here are slings for children and young people with disabilities for use with hoists. They are available in a range of children's sizes and some may be made-to-measure.
The sling is placed around your child while they are seated or lying down. Your child is then hoisted up, the hoist is wheeled to the new location and your child is lowered, for example from their wheelchair to a shower chair (Able Magazine, 2010), (Novita Children's Services, 2009).
There are various types of children's slings available including bathing, toileting and 'sit-on' slings. They may be provided in fabric such as polyester, fleece-lined, mesh and low friction fabrics such as parasilk. Options include head support, extended leg and shoulder sections and chest straps.