Manual pool hoists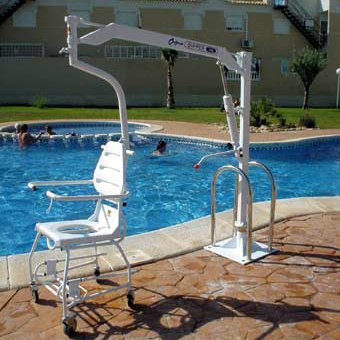 These manually operated swimming pool hoists may be operated hydraulically by a winding handle, lever or a pump handle to raise and lower your child into the pool. They may be used with a chair or stretcher attachment.
Manual pool hoists may be permanently fixed to the floor in one place, or mounted into a floor socket and removable (Sport England, 2014). If a detachable version is chosen, several floor sockets can be installed in different positions around the pool allowing the hoist to be used in various locations. Storage of the mast will need to be considered if a detachable version is chosen.
This section also includes hoist accessories including a mobile chair designed to be used with a hoist, and a rigid sling support.