Nightwear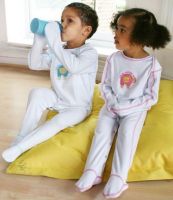 The nightwear listed here has features which may make them suitable for use by children and young people with disabilities. They are available in a range of colours and sizes.
They includes features such as:
Seamless or flat seams;
All in one nightwear;
Back opening;
Fastenings such as poppers and zips.
Crotch fastenings which may be suitable for children using continence pads, urinals or catheters.