Protective outdoorwear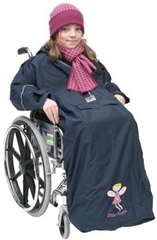 Included in this section is outdoorwear for children who use powered wheelchairs, manual wheelchairs and buggies.
This includes capes, ponchos, sitting bags and coveralls which are often fastened using Velcro for speed and ease of use. They may include a zipped front or internal pocket in which children can safely keep their belongings.
The products are not covers for the wheelchair or buggy itself. If you wish to see a range of covers, please click here.