Replacement seats & backrests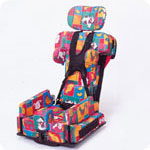 This section includes seats, backrests or products that combine both. They are designed to replace the standard wheelchair seat and backrest to provide children with a greater degree of support - usually a firm, contoured surface.
Some include adjustable supports, and some may also provide pressure relief.